Home

/

Seasonal Partner Program
Seasonal Partner Program
Corporate Partnerships
Seasonal Partnerships
Christmas

Each year, The Salvation Army offers food and toy assistance to more than 4 million people in need during the Christmas season alone - including more than 1 million children. Here are some ways your company or business can partner with The Salvation Army to bring hope and joy to familes during the Christmas Season:
Participate in group volunteer opportunities including: holiday feeding events, toy distribution and bell ringing
Work with us to create a customized volunteer project for your employees
Click here for a list of current volunteer opportunities.
Host Red Kettles and Bell Ringers at your retail store locations
Host a paper kettle pin-up campaign at store registers
Make a monetary donation to support Christmas assistance to families in need
Host an online fundraising for The Salvation Army's Christmas efforts
Donate a percentage of purchases during a set time period to The Salvation Army
Organize a workplace giving campaign for disaster relief and other programs
Host an Angel Tree in your corporate office
Adopt a family (or more than one) as employee team
Make an in-kind donation of toys and/or food
Thanksgiving
Every year, The Salvation Army hosts a Thanksgiving Day Dinner for members of our disadvantaged community, serving approximately 2000 meals in a matter of hours. We rely heavily on our volunteers to support a host of duties including prepping food, cleaning, serving and general set-up. In 2015, we had the generous support of over 850 volunteers from the local community, many from businesses, schools and clubs.

The Salvation Army offers a variety of sponsorship opportunities to help support our Thanksgiving Day Dinner, including Title sponsorship, volunteer T-shirt sponsors & food station sponsors.



Back to School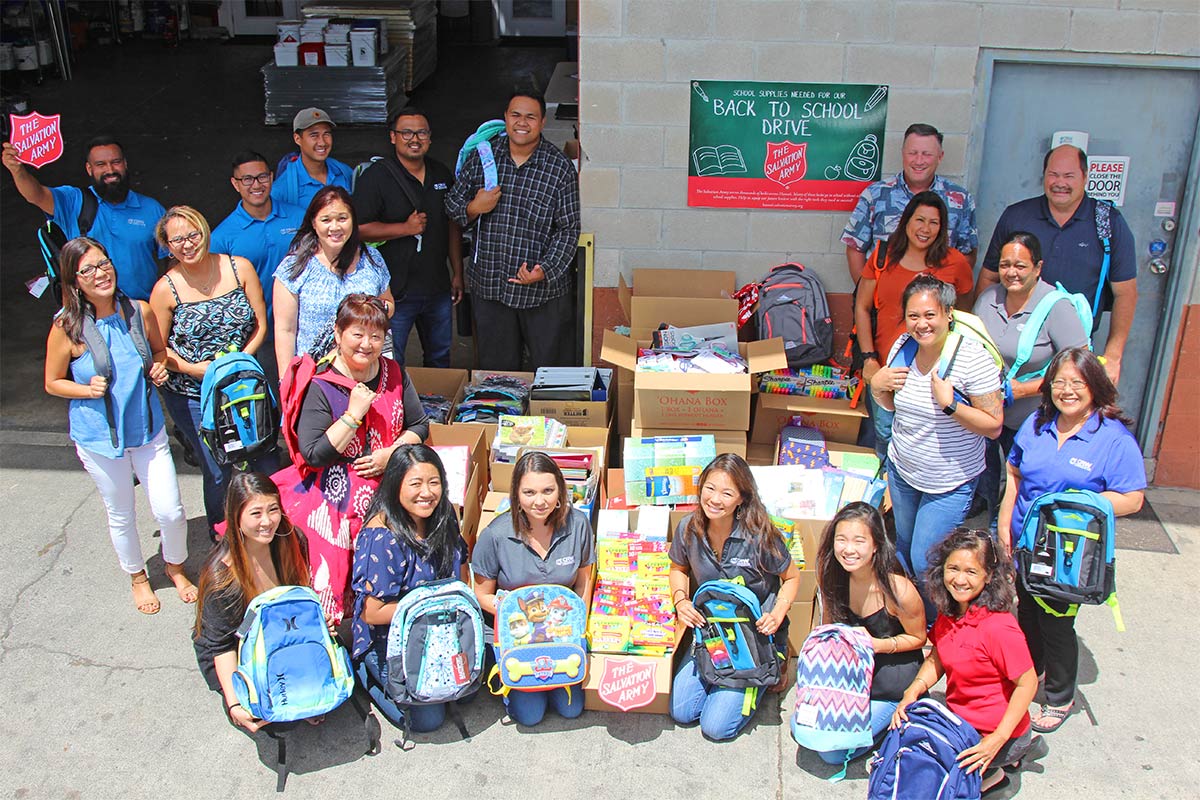 Each year The Salvation Army coordinates back-to-school events and distributions for families in need of a helping. From collecting supplies from local donors and partnering businesses, to stuffing backpacks and coordinating events, The Salvation Army relies on the hearts and hands of supporters and volunteers to make these events possible.
Contact
For more information please contact Tatsu Sasaki, Associate Director of Development, at 808.440.1834, or e-mail Tatsu.Sasaki@usw.salvationarmy.org. Or fill out the contact form below and we will reach out to you regarding your submission. Thank you for your interest in partnering with us.